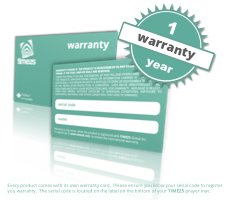 MANUFACTURING WARRANTY
The warranty applies only when the product is purchased through an authorized TIMEZ5 outlet. In addition to the serial code being registered with TIMEZ5 directly via our website at www.timez5.com. All TIMEZ5 products are covered by an ordinary 1-year warranty. Limitations are listed below. If the warranty certificate or the online form on www.timez5.com is correctly completed and submitted, the warranty will be: 1 year for all components.
GENERAL WARRANTY CONDITIONS
The warranty is valid only if the TIMEZ5™ Prayer Mat product is used and handled in accordance with the directions given in this booklet.
The warranty covers physical defects and changes, which cause a visible, permanent indentation more than 2 cm, in the TIMEZ5™ Prayer Mat material. Regular wear and tear is not covered in this warranty that may have affects on materials and finishing over time due to usage.
Complaints should be made to the authorized outlet from whom the product was bought
To make a claim under the warranty you must present the original invoice or sales receipt as evidence of your purchase to the authorized TIMEZ5 outlet the purchase was made from. The consumer does not bear any expense in claiming the warranty.
THE WARRANTY DOES NOI APPLY:
If the TIMEZ5 instructions for using, cleaning and maintaining the product have not been followed; or if the product has otherwise been damaged as a result of poor maintenance, or careless use.
If the product has been bent, squeezed etc. in extreme temperatures or for a period of time causing the material to tear or permanently deform.
If the product has been soaked in any liquid or has absorb fluids and are difficult to dry which reduces the functionality permanently.
If the product is soiled on.
If the product has been altered or repaired without the permission of TIMEZ5.
If products are repaired or replaced under the warranty, the original warranty period is not extended.